The Story of Art in Paradise
Art and Love Make for the Best Sonoma Winery Experience
In 1960, Walter Byck proposed to his girlfriend, Marijke Hoenselaars, in a sculpture grove in the Netherlands. By 1997, Walter and Marijke had permanently recreated this romantic moment as the pair developed an expansive sculpture garden on a perfect four-acre grove of wooded glens with ancient gnarled oaks and open meadows. 
Walter dedicated the grove to Marijke after her tragic passing in 2006, and today it is known as Marijke's Grove. Instead of selecting exclusively permanent pieces, the grove supports the arts with a combination of stunning permanent and rotating exhibits. To further illustrate their support of philanthropic efforts relating to the arts within the community, Marijke's Grove is free to the public 10 am to 4 pm daily.
In 2012, the Byck family began working with the Voigt Family Sculpture Foundation. The 501(c)(3) charitable foundation places sculptures in public places accessible to all. The Voigt Family Sculpture Foundation believes that experiencing art in an outdoor setting, especially a natural setting, changes your experience of the art and the place. Marijke's Grove meets these criteria perfectly as "Galleries" are connected by simple footpaths, and sculptures are placed among mossy rocks and grassy clearings.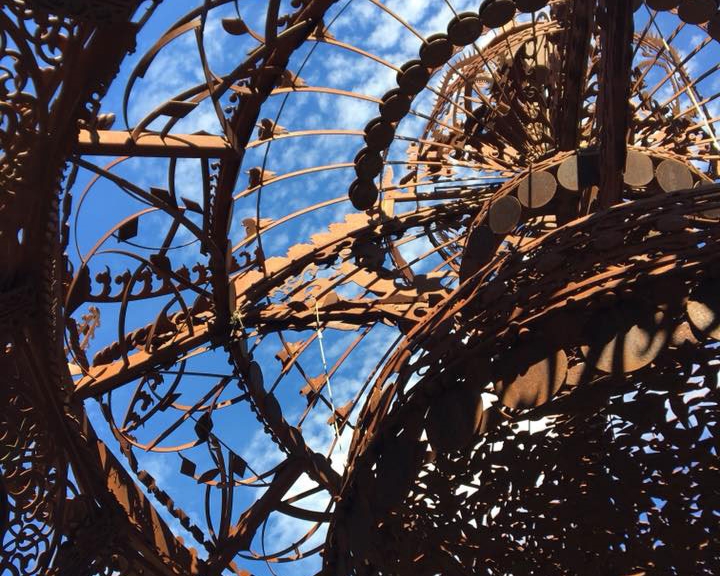 The EMPYREAN Temple build was completed in early February 2021 and stands as a beacon of inspiration and hope for a changing world. The EMPYREAN Temple represents the region just beyond our physical realm that is the highest center of wisdom and the source of energy-consciousness. The Temple build is a proof-of-concept project that comprises two of the eight canopies, or star blades, that will make up the full-scale EMPYREAN Temple for the next official Burning Man event.
In addition to our rotating shows, Paradise Ridge Winery is also home to permanent exhibits, including our iconic LOVE sculpture This 12-foot-tall piece is part of Laura Kimpton's "Monumental Words" series, which started at Burning Man in 2009.
"My Monumental Words are covered with laser cutout birds, a motif I use to represent freedom from the weight of the words and their associated thoughts themselves." – Laura Kimpton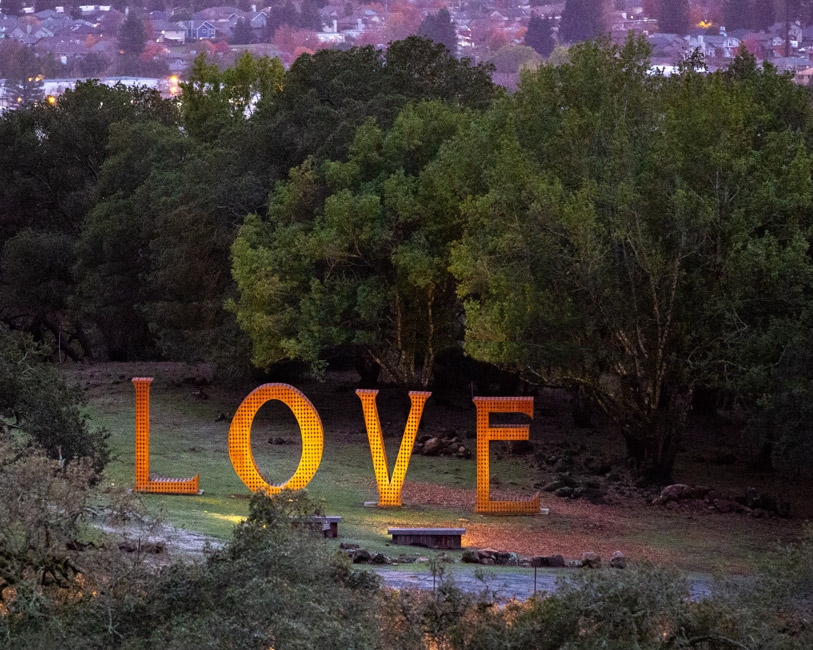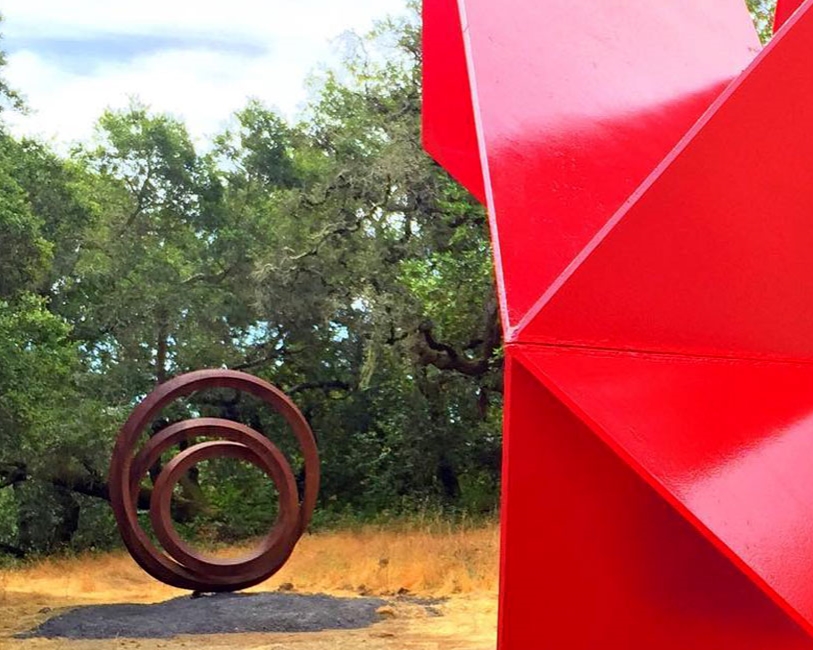 Another sculpture from our permanent collection is the Temple of Remembrance, a massive 25-ton steel structure that provides a sacred space for reflection and renewal. This is the first permanent steel structure by internationally known temple builder David Best. It incorporates David's brilliant blending of imagery ranging from Celtic to Hindu to European Gothic. 
In 2022, The Bohemian, an award-winning alternative newsweekly serving Sonoma and Napa counties, voted Paradise Ridge the Best Art Inspired Winery for Marijke's Grove. Our collaboration with the Voigt Family Sculpture Foundation and our commitment to supporting philanthropic efforts relating to the arts within the community are how we bring cutting-edge free public art to the foothills of Sonoma County. 
See our iconic LOVE sculpture and many others in Marijke's Grove FREE from 10 to 4 daily. After you fill yourself with wonder, come fill your glass and enjoy sunset with us at our remodeled estate.