With Love From The Heart Of Sonoma County
Sustainable Practices. Beloved Varietals. Approachable Wines.
Sustainable Lands. For over 40 years, the Byck family has created a culture of sustainability and thoughtful stewardship, the core values of Paradise Ridge. Their commitment was recognized in 2016, when the California Sustainable Winegrowing Alliance officially certified the estate vineyards "sustainable" by their rigorous standards. After the tragic fires of 2017, steps were taken to restore the health of the estate, with a focus on biodiversity. The commitment to sustainability influences every decision we make, and we farm with future generations in mind.
Paradise Ridge Winery uses only natural pesticides or herbicides on the property, a practice that is at the core of creating an environment that is friendly to native species. By leaving the property as a wildlife corridor, we regularly see bobcats, coyotes, and raccoons, and on rare occasions the more elusive mountain lions and badgers. In the spring of 2018, sheep were re-introduced onto the property. The sheep allow for natural management of weeds and grasses, avoiding mechanization, which in turn nurtures the health of the soil. Sheep offer some of the best natural fertilizers possible. Grazing open space has the added benefit of mitigating the risk from fires. Many species of birds call Paradise home, including red-tailed hawks, cooper's hawks, kestrels, and California quails. We also added owl boxes, which are used as homes for rescued baby barn owls.
As part of our goal to increase biodiversity, we partnered with a local Girl Scout troop to use native plants to restore the damage from the wildfires. The goal was to bring back the native bee population, an important player in a healthy environment. Native plants also provide nectar for other pollinators, including hummingbirds, butterflies, moths, and bats.
In our vineyards, we have taken biodiversity underground by introducing biochar (a nutrient-rich natural organic charcoal) to encourage as many microorganisms as possible. The highly porous charcoal helps soils retain nutrients and water. It also creates the equivalent of "luxury condos" for the underground bugs that help feed our vines. The addition of biochar makes it possible to hold carbon in the soil for hundreds and thousands of years.
One of the great fortunes of the Paradise Ridge property is that it is self-sufficient for water. The water is mindfully used, appreciating the scarcity of this natural resource. After the fires, the vineyard irrigation system was restructured to pinpoint specific zones, giving us the ability to water areas only as needed. This system saves hundreds of thousands of gallons of water per year.
Paradise Ridge vineyards are in the Russian River American Viticultural Area (AVA), the geographical heart of Sonoma County. This is where we sustainably farm 15 of our 155 acres with a selection of wine country's best known and most beloved varietals. These include Chardonnay, Sauvignon Blanc, Grenache, Merlot, Petite Sirah, Pinot Noir, Syrah, and Zinfandel. The remaining estate acreage is shared with wildlife and native species.
Our acreage is organized into four vineyard blocks: the Nagasawa , Dr. Byck , Syrah, and Grandview vineyards are where we cultivate the soils with consideration of climate, balancing each vine to ensure that the grapes ripen evenly.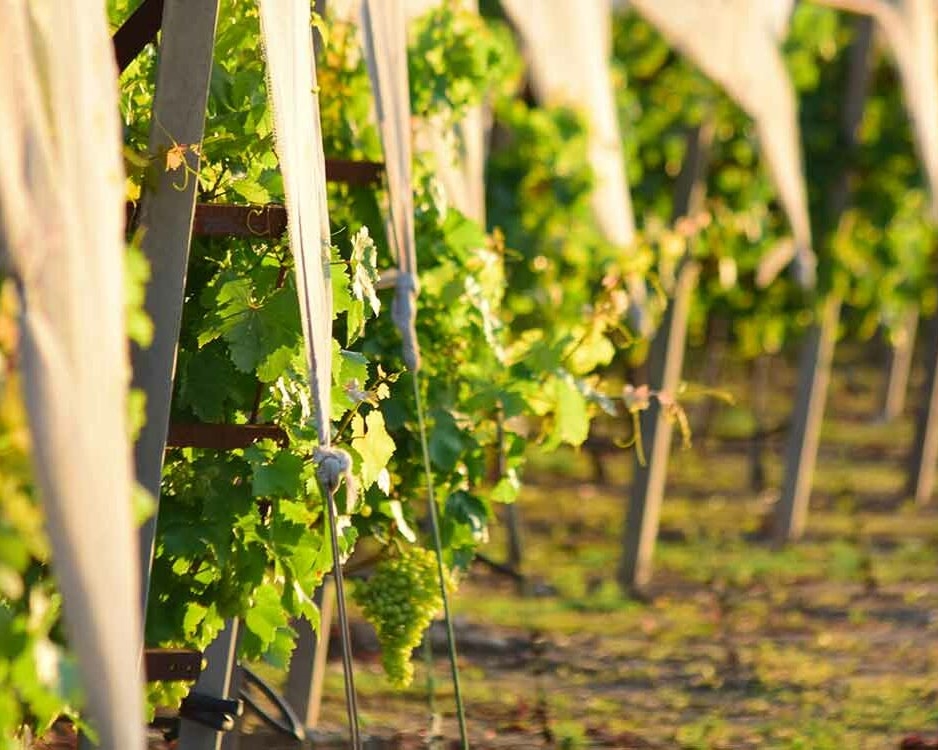 Nagasawa Vineyard is home to our Wente clone. A small block of Chardonnay is grown in a combination of alluvial and volcanic well-drained soils at 600 feet above sea level in a hanging valley on the eastern fringes of the vineyard. This site is heavily influenced by both the cooling on-shore winds of the Pacific Ocean and the early morning fog pattern driven from the south by the Petaluma wind gap. 
Dr. Byck Vineyard is 5.4 acres of Pommard and Dijon 777 Pinot Noir clones planted in 2007. These grapes are used for Walter's Pinot Noir , a delicate blend of the two, and our Vineyard Select Pinot Noir , a 100% Pommard clone. This hillside block with a southeast slope sits on the far northwest part of the estate and is unique for its high winds and abundant sun. This microclimate with low water retention naturally stunts the vines, which creates a low volume of high-quality fruit.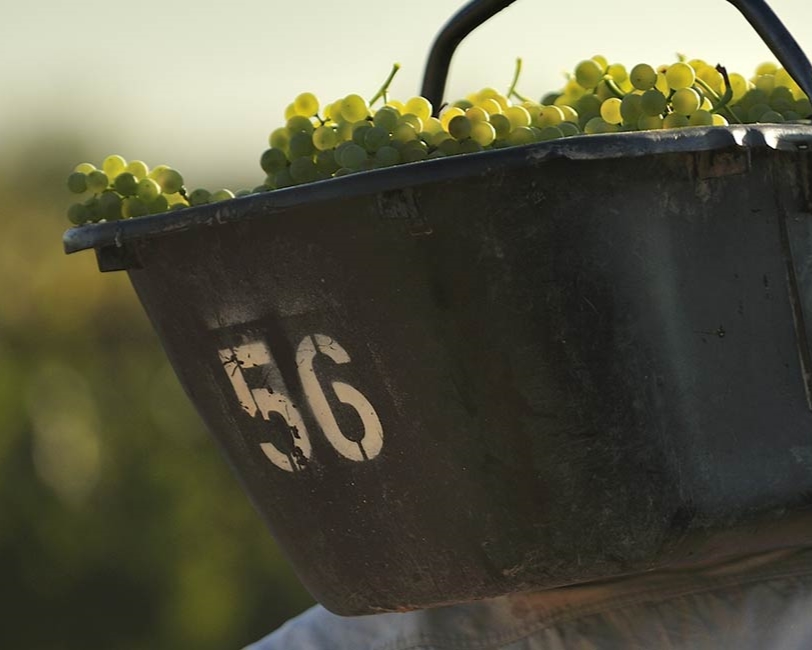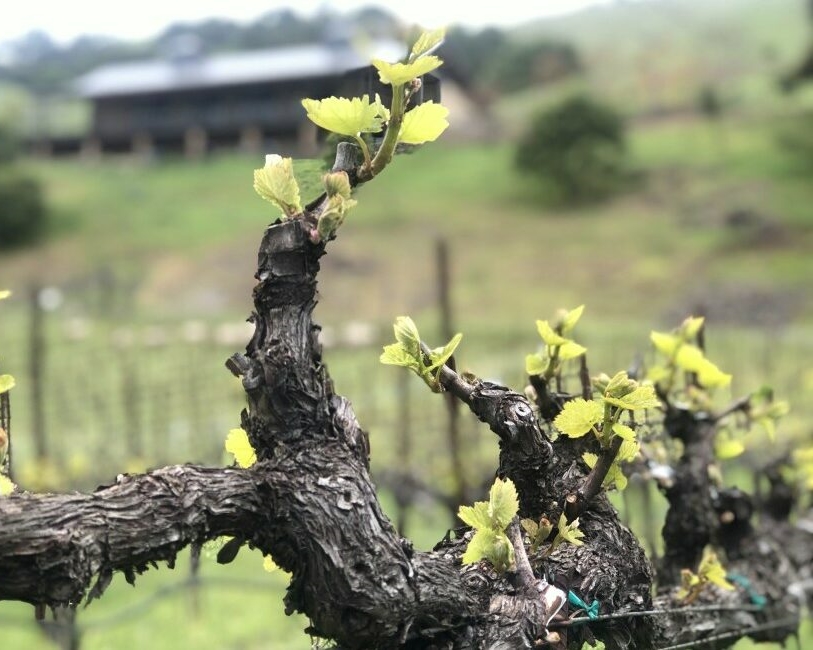 The Syrah Vineyard is an Estrella clone on 2.2 acres of Syrah and Grenache planted in 2001. Theses vines are carefully managed throughout the growing season to expose the fruit to dappled sunlight, so the shade preserves the natural acidity. Our Brides Blush Rosé is an excellent expression of these varietals. You can't miss this west-facing vineyard as it sits in front of our LOVE sculpture. Despite a quite steep slope, the loamy soil makes for great water retention, and plentiful late-day sun exposure is perfect to ripen those Mediterranean varieties. 
The Grandview Vineyard was planted in 2003 and grows three clones of Sauvignon Blanc on 4.8 acres: the Wente clone, which originates from the Sauterne region of France; the FPS clone 17 from the Conegliano in northeastern Italy; and a hybrid called Sauvignon Musqué. Planted with Old Clone 1 at the top and our Musqué at the bottom, we make our own estate Sauvignon Blanc on this rocky-soiled northeast-facing block. Look for a second wine from the Musqué clone in the future.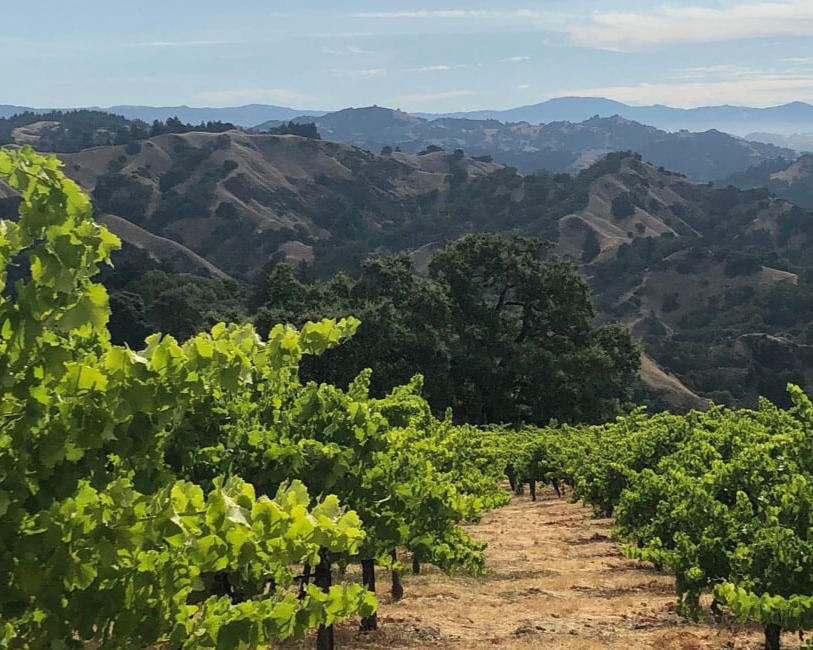 Each vine is painstakingly cared for with careful canopy management and crop control as the focus. We cultivate the soils with consideration of climate, elevation, and geology, balancing each vine to ensure that the grapes ripen evenly. We hand harvest during the coolest hours of daybreak, and our de-stemming process is optimized to collect the highest volume of whole berries possible. The resulting fruit reflects the terroir and creates sophisticated, approachable wines with strong varietal character. From the vineyards come the grapes from which we craft our award-winning sparkling wine, dry table wine, and dessert wine.
Our wines are a testament to the love of winemaker Daniel Fitzgerald, who cultivates the vineyards thoughtfully, balancing each vine to ensure grapes ripen evenly and the harvested fruit reflects a place and time for wines rich in character. 
A northern California native, Fitzgerald lived in Europe for 13 years. This old-world frame of reference developed his affinity for delicately balanced wines. He began his winemaking career in 2002 in Sonoma County's Dry Creek Valley and earned a Bachelor of Science degree in enology from Fresno State University. 
His style of elegant, age-worthy wines reflect the specific site, season, and source of their origin. With over 20 years of winemaking and grape-growing experience in Sonoma, Napa, and Australia, Daniel brings a world-class palate and a wealth of knowledge across varietals and terroirs.
"I am excited to get back to the kind of winemaking and viticulture that Paradise Ridge Winery requires," he said. "After a long stint running a big facility, with 50+ wines and vineyards, it will be a welcome change to focus on a high-quality estate like this one from grape to bottle." – Daniel Fitzgerald
Daniel and his team work to extract the full flavor within the berry without having to utilize harsher punch-down techniques because we ferment in small, specially designed, open-top containers with a submerged cap. From vineyard to glass, we champion our mission to bring pleasure to food and friends, support our belief in the values of human connection, and transform your wine tasting experience into a memorable story.